What did Sir Horace Jones design?
In 1866, Jones also completed the wonderfully entitled City of London Pauper Lunatic Asylum in Dartford. 
As City Surveyor, Jones not only designed one of the most recognisable buildings on earth, but also a trio of London's most spectacular markets, starting with Smithfield Market. 
This huge building, with its colourful decorative ironwork, was constructed in three stages over 17 years. Completed in 1883, Smithfield Market remains the last surviving wholesale market in the City and will become home to the Museum of London in 2024.  
Meanwhile, Jones also found time, in 1871, to convert Deptford Dockyard into a foreign cattle market and also build Billingsgate Market. A short distance upriver from Tower Bridge, it was the world's largest fish market when completed in 1878. 
Lastly came Leadenhall Market, completed in 1881, where once again Jones displayed his love of ornate ironwork. There has been a market located there since 1377, when it was 'for foreigners' (meaning people from outside London). More recently, it has popped up in some Harry Potter movies. 
In 1880, Horace designed Temple Bar Memorial to mark the border between the Cities of London and Westminster. If you can avoid the traffic and reach the centre of the road, try to find Jones' likeness on one of the brass plates. 
Jones was President of Royal Institute of British Architects from 1882–84, and knighted on 30 July 1886, but none of these achievements compare to the fame of his most recognisable work, the iconic symbol of London, Tower Bridge.  
The man behind Tower Bridge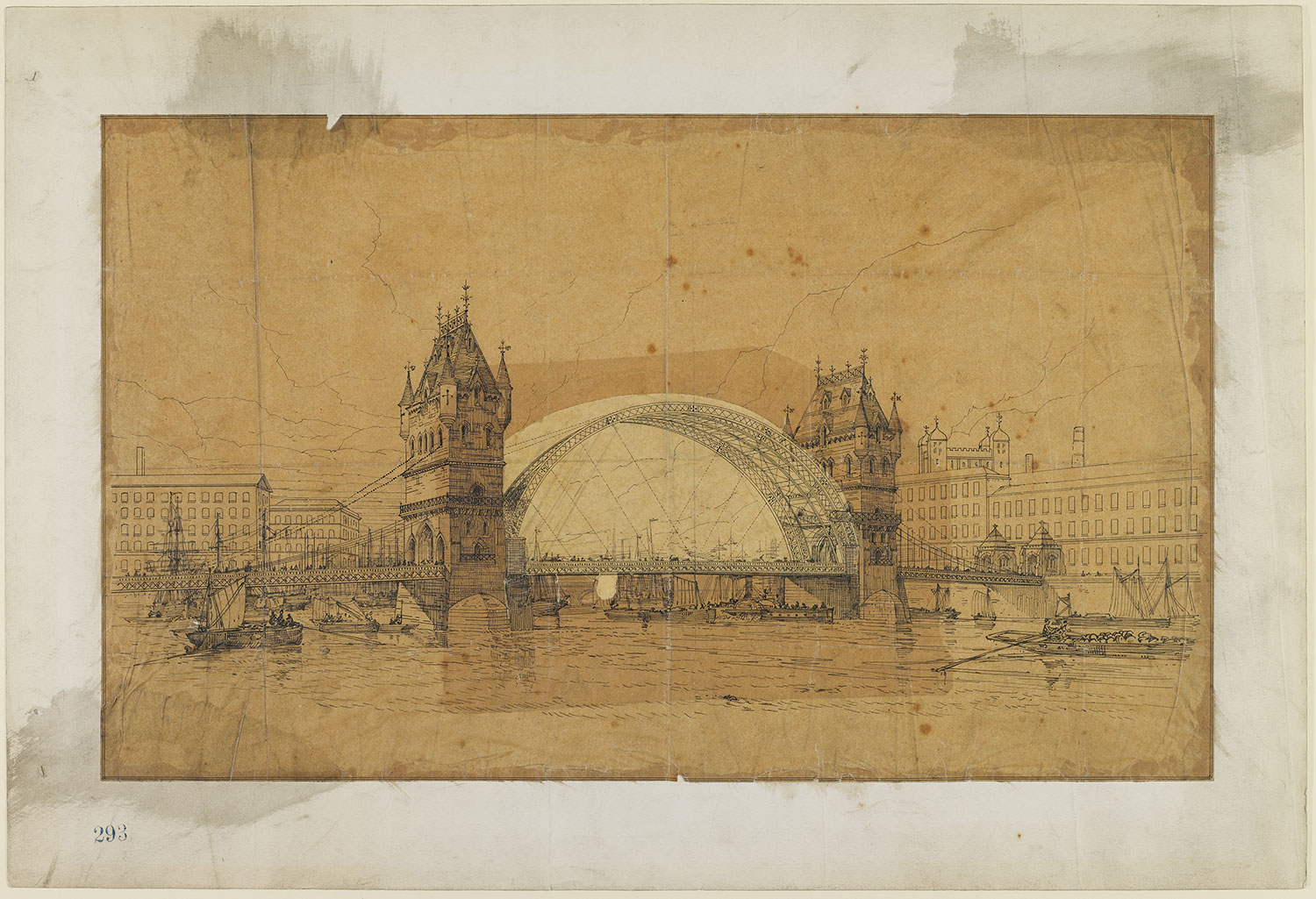 A pen-and-ink drawing by Jones, from his 1884's design, which depicted the bascules closed for passage of road traffic. ©London Metropolitan Archives, City of London (ref COL/SVD/PL/03/0293).
Parliament passed The Tower Bridge Act on 14 August 1885. Jones and his partner, John Wolfe Barry, were appointed to superintend construction, which began on 22 April 1886.  
Just over a year later, on 21 May 1887, Sir Horace Jones died, and never saw its completion.
Where is Sir Horace Jones buried?
His tomb in West Norwood Cemetery, South London, stands in complete contrast to his vast, ornately decorated buildings. It is a plain, austere, and understated memorial to this half-forgotten Londoner.