What Tower Bridge might have been and its link to Scotland
In the late 1800s, London was growing rapidly and getting busier. The city desperately needed a new Thames crossing. In 1876, a competition was launched to design a new crossing situated next to the Tower of London, aptly dubbed "Tower Bridge".
Over 50 designs were submitted. The included low level bridges, which would have blocked the trade ships from passing underneath; duplex bridges with a lock gate system allowing road and river access simultaneously; and bridges with a rolling road, opening to let ships through. Even the winning design, by Sir Horace Jones and John Wolfe Barry, looked very different to the Tower Bridge we know today, boasting a big arch where the high-level Walkways are now located, as seen in the pictured above.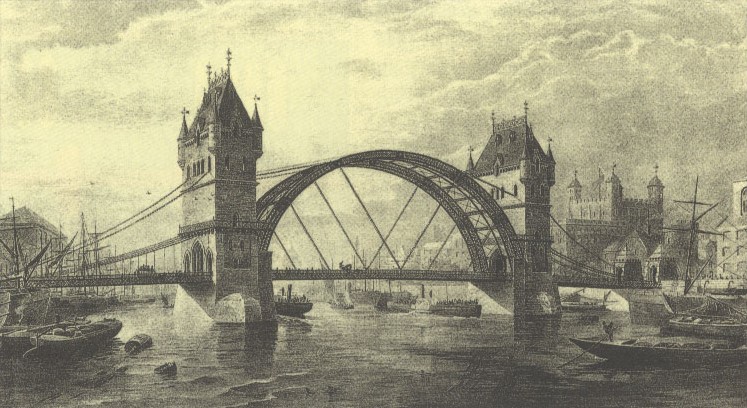 You can see some of these alternative designs on display inside Tower Bridge but it is hard to imagine any of these alternative designs being as loved as our Tower Bridge.
Our connection to Scotland
Did you know that despite being over 300 miles (about 482 km) apart, our link to Scotland dates right back to the construction of Tower Bridge, in the late 1800s?
The iconic stonework of Tower Bridge hides an impressive steel skeleton forming the main structure, which was constructed by the Scottish civil engineering company Sir William Arrol & Co. They were based in Glasgow and had built some of the United Kingdom's most famous bridges, including the Forth Bridge and Tay Rail Bridge.
We had not, however, realised quite how many Scots had worked onsite at this time. Our recent research into the Sir William Arrol & Co workers has shown just how many moved down from Scotland to build Tower Bridge, using the bridge-building skills gained from the Forth and Tay bridges.
People like John Merker, who worked as a crane driver, lifting the heavy materials to the top of the bridge, and John Black the driller, who drilled some of the estimated three million rivet holes required to hold up the massive internal steel frame. The number of experienced bridge builders working on Tower Bridge has been credited as the reason for so few injuries during its construction.